Los últimos artículos visitados
Soviet T-26 Light Infantry Tank Mod1931
Price:
31,73 EUR


Ref:

HBOS-82494


Manufacturer:

HobbyBoss


Family:

AFV 1/35


Approximate weight:

0.33 kg - 0.73 lb


Description:

Soviet T-26 Light Infantry Tank Mod1931
The T-26 tank was a Soviet light infantry tank used during many conflicts of the 1930s as well as during World War II. It was a development of the British Vickers 6-Ton tank and is widely considered one of the most successful tank designs of the 1930s.
It was produced in greater numbers than any other tank of the period, with more than 11,000 produced. During the 1930s, the USSR developed approximately 53 variants of the T-26, including other combat vehicles based on its chassis. Twenty-three of these were mass-produced.
The T-26 was used extensively in the armies of Spain, China and Turkey. In addition, captured T-26 light tanks were used by the Finnish, German, Romanian and Hungarian armies.
Recomendamos con este art�culo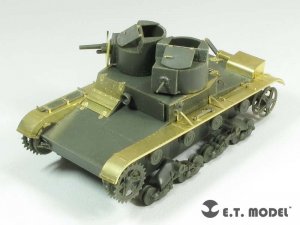 ECOMODELISMO, S.L.
Calle La Rioja 4 trasera
Tel.: +34 948 259 951
31008 PAMPLONA (Navarra) Spain
| Contact with ECOMODELISMO.com | On Us | Policy of Privacy | It registrese | Sitio web desarrolado por Accesible, s.l. |