Los últimos artículos visitados
Buffalo Amphibian and Jeep
Price:
11,85 EUR


Ref:

AIRF-02302


Manufacturer:

Airfix


Family:

AFV 1/76


Approximate weight:

0.22 kg - 0.49 lb


Description:

Buffalo Amphibian and Jeep
This cleated-tracked landing vehicle was designed for the US Army initially, but then was also used by the British Army in NW Europe. This box also contains the Willys Jeep. Although usually associated with the Pacific theatre, toward the end of the war LVTs (Landing Vehicle Tracked) were employed in Europe as well. The US, British and Canadian Armies used the Buffalo in the Battle of the Scheldt along the Po River in Italy, across the river Elbe, and in a number of other river crossing operations.
Relacionados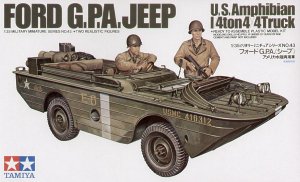 U.S. Amphibian Ford
Vehiculo anfibio Americano modelo "F"
Caracteristicas
Maqueta a escala 1/35 para montar y pintar de la
...[+]