Los últimos artículos visitados
El pirata Barbanegra
Price:
29,38 EUR


Ref:

ROME-54087


Manufacturer:

Royal Model


Family:

Pirates Caribbean 54 mm


Approximate weight:

0.20 kg - 0.45 lb


Description:

Blackbeard The Pirate
Edward Teach, known as Blackbeard was a British pirate who sailed the Caribbean between the years 1716 and 1718. He was born in 1680; discordant sources report in Bristol or in Port Royal. It is well known that he started as a pirate on board Jamaican corsair vessels operating against France. He was fierce and still today represents the stereotype of the evil pirate.
In 1716 he captured a ship from French Guiana and renamed her as Queen Anne's Revenge. In 1718 he besieged the port of Charleston in South Carolina. In July of the same year the governor of Bahamas and Nassau wanting to come to an agreement with the pirate, offered him an amnesty but Blackbeard refused it. Thus, in November of the same year, he was attacked while in the bay of Ocracoke, by the English vessel Pearl, under the command of sub-lieutenant Maynard. After a bloody battle Blackbeard was killed and his head was hung on the top of the Pearl's bowsprit.
Relacionados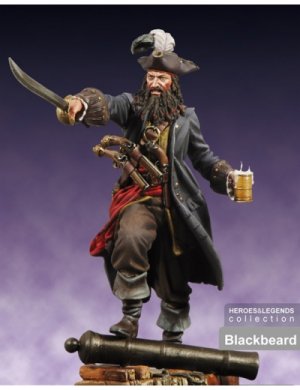 Barbanegra
Barbanegra
Caracteristicas
De la marca Scale 75 a escala de 75mm para montar y pintar.
Br...[+]
ECOMODELISMO, S.L.
Calle La Rioja 4 trasera
Tel.: +34 948 259 951
31008 PAMPLONA (Navarra) Spain
| Contact with ECOMODELISMO.com | On Us | Policy of Privacy | It registrese | Sitio web desarrolado por Accesible, s.l. |