Los últimos artículos visitados
Set envejecido Iraq y Afganistan
Price:
10,50 EUR


Ref:

AKIN-120


Manufacturer:

AK Interactive


Family:

Weathering Products


Approximate weight:

0.19 kg - 0.42 lb


Description:

Set envejecido Iraq y Afganistan
Features

Interactive AK brand.
The modern American vehicles in Afghanistan and Iraq are beginning to be a subject as important as vehicles for the German World War II. And many brands of plastic kits are leaning toward making vehicles for these two theaters of operations, OIF and OEF. This set is exclusively designed for modelers who do this type of vehicle, although they can be used for other armies. These vehicles Americans have a very particular and to achieve this end, the set contains a product for washing and one for draining purposes. In addition, we have included an acrylic base color of some of the colors used by the U.S. Army in desert areas, the FS 33446. A unique color faithfully reproduced and softened slightly to offset the scale effect. You can use this color in all your vehicles age the Americans and the other two products to obtain a result very close to real vehicles.

This set contains the AK-121, AK-122, AK-123.

Relacionados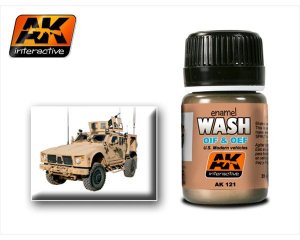 ECOMODELISMO, S.L.
Calle La Rioja 4 trasera
Tel.: +34 948 259 951
31008 PAMPLONA (Navarra) Spain
| Contact with ECOMODELISMO.com | On Us | Policy of Privacy | It registrese | Sitio web desarrolado por Accesible, s.l. |